[08/03/2019] - NFI U12 and U12 tournaments 2019 to start on Aprol 6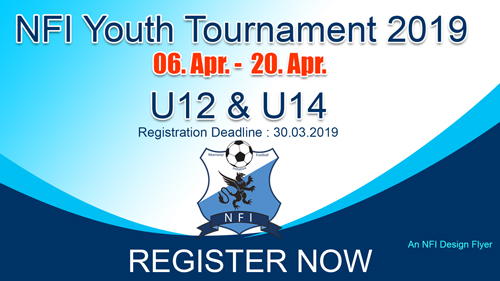 The NFI (Nkamanyi football initiative) is very pleased to announce its forthcoming NFI Youth tournaments for the 2019 season. Unlike in previous years where we organised tournaments that lasted months and included all categories at the same time, this time the tournaments shall be organised in two different periods. The first tournament will involve the Under 12 and Under 14 and shall run from Saturday April 6 to Saturday April 20.
It should be noted that the latest date for registration is the 30TH OF MARCH 2019. All names of all teams retained to participate in the tournament shall be published on our website at http://nfi.nkamanyi.com/tournaments2019
---
[08/03/2019] - NFI Team A startx division 3 league on Friday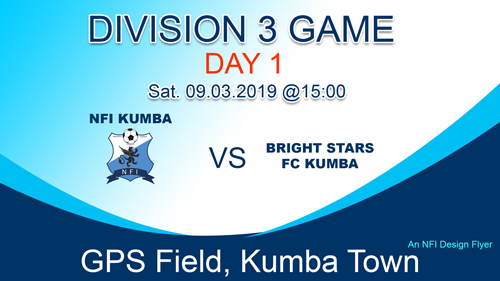 The NFI team A shall officially start its division 3 league game for the 2019/2020 session this Saturday April, 09 2019 at 15:00 in the GPS Kumba town field.

Join us as we do a second attempt and hope we are not cheated again.




---
[13/11/2018] - We are recruiting for the 2018/2019 season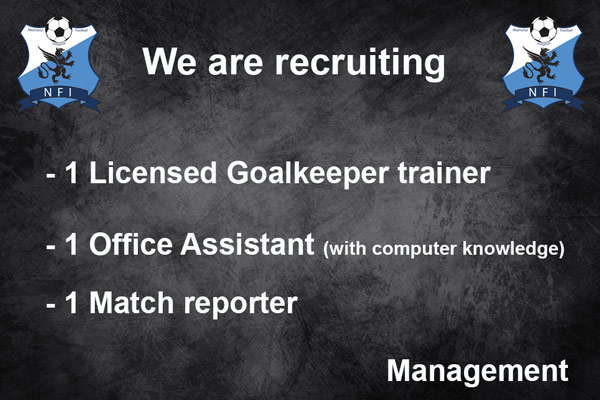 The public is hereby informed of the following vacancies which we intend to fill by the end of this week as we start the season.

As we continue in our pursuit of professionalizing the team, we know very much that our success depends on our people. We would like to work with you and help you in your future career path.

Interested candidates should share our vision and be willing to participate actively in empowering kids through football.
Goalkeeper trainer
- You shall be responsible for training the goalkeepers at all levels of the NFI.
- You are expected to hold at least a trainer licence C.
Office assistant
- Your service shall be required for the next three months.
- You are expected to assist the board in executing office tasks.
- Knowledge of using a computer is a must.
Match reporter
- Your service shall be required whenever the NFI has a game.
- You are expected to write down the report of the game.
- Knowledge of using a computer wished but not a must.
Interested candidates should contact the office or call +237 6 7506 3849.
---
[09/11/2018] - Ebika Henry is new NFI U12 trainer
Ebika Henry has been recruited as the new trainer for the U12 of the Nkamanyi Football Initiative for the 2018/2019 season. He replaces Chi Godwin who was transferred to Yaounde by his professional employer.

Prior to his appointment, Henry was owner and trainer of Arsenal Football training center in Kosala, Kumba. He was once selected as best coach of the NFI tournament. Last year he led Arsenal to the U12 finals of the NFI Youth Championship. He was also assistant coach of division side Treviso FC Kumba.

He holds a C license in coaching and has had 7 years of coaching experience.




---
[05/11/2018] - Nkamanyi Football Initiative introduces "Sponsor a Kid scholarship" scheme
The Nkamanyi Football Initiative has introduced a scholarship to help kids pay their registration into the initiative for the year 2018/2019. We want to lay much emphasis on the professional training of the U12, U14, U16 and Female teams.

We have therefore set the fees at CFA 60.000 per year (CFA 5000 per month). This fee will ensure that we can provide them quality training with professional (paid coaches), accident insurance and a host of other advantages. Cognisant of the difficult situation prevailing in the region and the city, we put this scholarship scheme in place and count on you participating in shaping the future of a kid.




---
View archived information